The AFT Record: Failed Policies, Flagrant Politics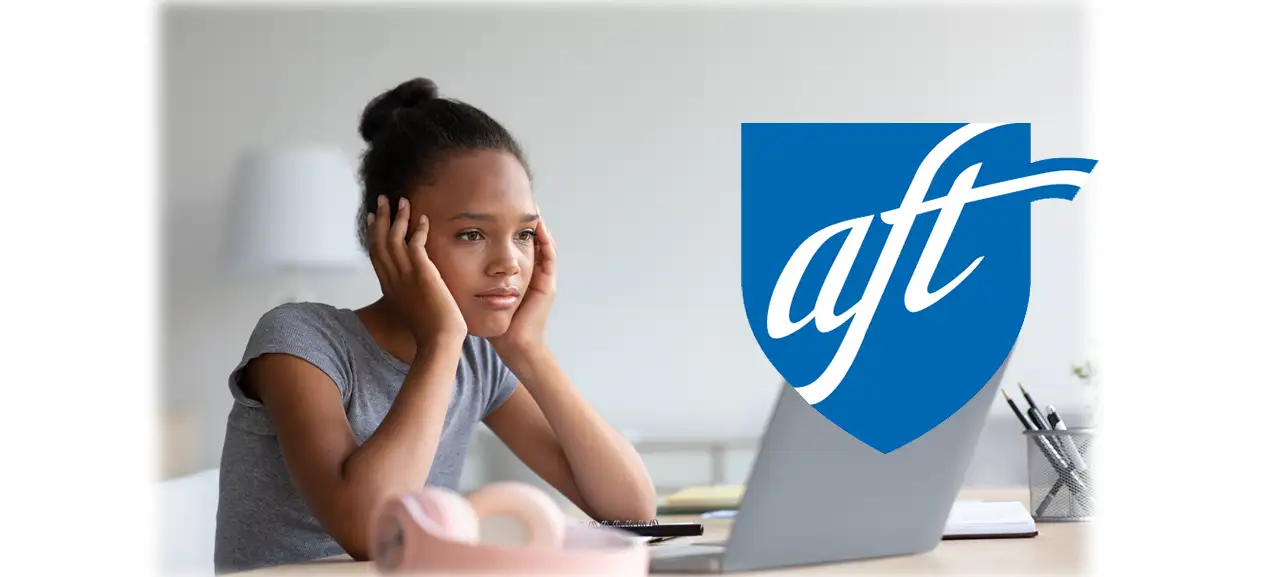 The American Federation of Teachers has a record of turning political influence with progressives into harmful public policies. Over the past few years, this pattern became apparent as they used the backdrop of Covid to relieve their teachers of the need to work at in-person schools.
By the summer of 2020, it was clear that children needed to return to their classrooms. Scientists already knew that children were at low risk of symptomatic, let alone fatal cases of the virus. Academics and policymakers alike were also recognizing the ruinous effects of lockdowns on young people's wellbeing. Even a basic analysis of risk and reward pointed towards reopening public schools.
Countries like France, Denmark, and Germany took this logical approach, bringing back in-person learning as early as April 2020. Yet across the United States, particularly in its major cities, kids were shuttered at home, with limited prospects of returning to the classroom. 
But why was America so uniquely behind the curve in helping their students get back to learning?
As states considered the merits of reopening, American teachers' unions drew a line in the sand to keep the kids out of school. Nobody was more vocal on this front than Randi Weingarten, President of the American Federation of Teachers.
Failed Policies
In a July 2020 speech, speaking on behalf of the AFT's 1.6 million members, Weingarten threatened strikes and lawsuits against policymakers who reopened schools without first meeting her union's onerous guidelines. "If the authorities don't get it right," she warned, "nothing is off the table."
Indeed, the AFT took shocking and unprecedented steps to ensure the proper authorities "got it right."
The AFT's meddling in U.S. Covid policy came into its starkest relief during February 2021. At this time, when most Americans were returning to in-person spaces, the AFT directly instructed the CDC to tighten its school reopening guidelines. As a recent congressional report detailed, the AFT went so far as to offer "line-by-line" edits to these policy proposals.
The government health body was more than happy to incorporate these proposals, bordering on an obsequious commitment to ATF interests. As CDC Director Rochelle Walensky said in an email to one of Randi Weingarten's representatives:
"I just wanted to circle back and extend my gratitude for the language you have provided us below . . . I wanted to be certain you knew it is being worked into . . . the school reopening guidance."  
Rather than rely on medical experts, the CDC explicitly deferred to AFT preferences on issues like case-rate "thresholds" and provisions for emergency changes (read: closures) in the case of new variants. All of these policies could significantly reduce the prevalence of in-person schooling. 
Remarkably, school officials delayed reopening in obedience to the CDC and AFT's demands. By spring 2021, states like Illinois, California, and New York still reported less than 25% of their students attending full-time, in-person school. 
These remote learning situations were demonstrably harmful to students. For starters, students kept out of in-person classroom were set back years in their academic development. In 2022, national standardized reading and math scores dropped to levels not seen since the 1990s. Younger students fell several grade levels behind in foundational skills like spelling. 
Children's wellbeing also suffered from the AFT-promoted lockdowns. Millions of elementary students were denied foundational human interactions at school, the lack of which may have created lifelong psychological and social disabilities. Most tragically of all, many students literally failed to survive remote learning. Youth suicides reached record highs during the pandemic, and many young people still face crippling mental health issues. 
In spite of these iniquitous results, the AFT pushed relentlessly to keep their teachers from having to return to school. As late as January of 2022, the Chicago Teachers' Union (a.k.a. AFT Local No. 1) went on strike when the city proposed a return to in-person school. 
Indeed, two years into the pandemic, when over 90% of American students had returned to in-person instruction, Randi Weingarten's AFT was still pushing to remain at home. Such efforts lay bare the absurdity of Weingarten's recent claim that her members never "enjoyed remote and hybrid learning." Moreover, these harmful campaigns underscore the importance of investigating the AFT's dangerous grip over America's school policies. 
 

Flagrant Politics

 
Influence in public policy stems from influence in politics. And the AFT possesses political power in spades. 
The AFT furnishes many resources critical to Democrat electioneering efforts. As the Landmark Legal Foundation has exhaustively documented, Randi Weingarten's union mobilized hundreds of events in swing states to promote Democrat candidates to Congress and the White House over the last few years. 
In the run up to the 2020 election, for example, the AFT organized a whistle-stop bus tour of the United States, visiting 24 cities in swing states to rally support for Joe Biden and Kamala Harris. These rallies gathered hundreds of activists, equipped with literature and other gear to promote the Democrats' national candidates. Much as you may begrudge their influence, these are effective tactics to get pro-AFT candidates into office. 
Beyond their own activities, the AFT also wields a powerful political pocketbook. According to a recent watchdog investigation, the AFT spent nearly $50 million on political contributions during the 2020-2021 fiscal year alone.  
That game-changing sum of money was distributed primarily among national Democrat fundraisers, such as the Senate Majority PAC. According to these estimates, the AFT's political spending is on par with the largest Super PACs involved in leftist politics. 
In exchange for these political resources, the AFT leadership has been rewarded with outsized influence on Democrat policymaking. In addition to her special access to the CDC Director, Weingarten has sat on President Biden's Domestic Policy Council alongside former Obama official Susan Rice. Karla Hernandez, the Vice President of the national AFT, was tapped as the Democrat candidate for Lieutenant Governor in this year's contentious Florida Elections. 
From these influential positions, the AFT is capable of implementing policies which favor their leadership's goals over those of the general public. For all the progressives' talk of getting money out of politics, the AFT has reaped impressive rewards for their millions in spending on pro-Democrat initiatives. 
A Record Worth Investigating 
Over the past two years, the AFT has flagrantly leveraged their politics into the enactment of deeply harmful policies. Moreover, as recent findings by Landmark Legal Foundation imply, many of these political gains may have been ill-begotten, at the expense of the American tax system. 
Every American impacted by the deleterious Covid school closures should be interested in seeing a more thorough investigation of the AFT's financial practices. So too should any citizen concerned with the integrity of our national policy-making process.
SUPPORT LANDMARK LEGAL FOUNDATION
We are truly facing existential threats to our individual rights and liberties, the Constitution, and our national character. If unchallenged, this assault on our very way of life will ruin our great nation. With your financial and moral support, Landmark is not going to let that happen without a fight. Will you join us?