Congratulations Landmark Board Member Ed Meese; Presidential Medal of Freedom Recipient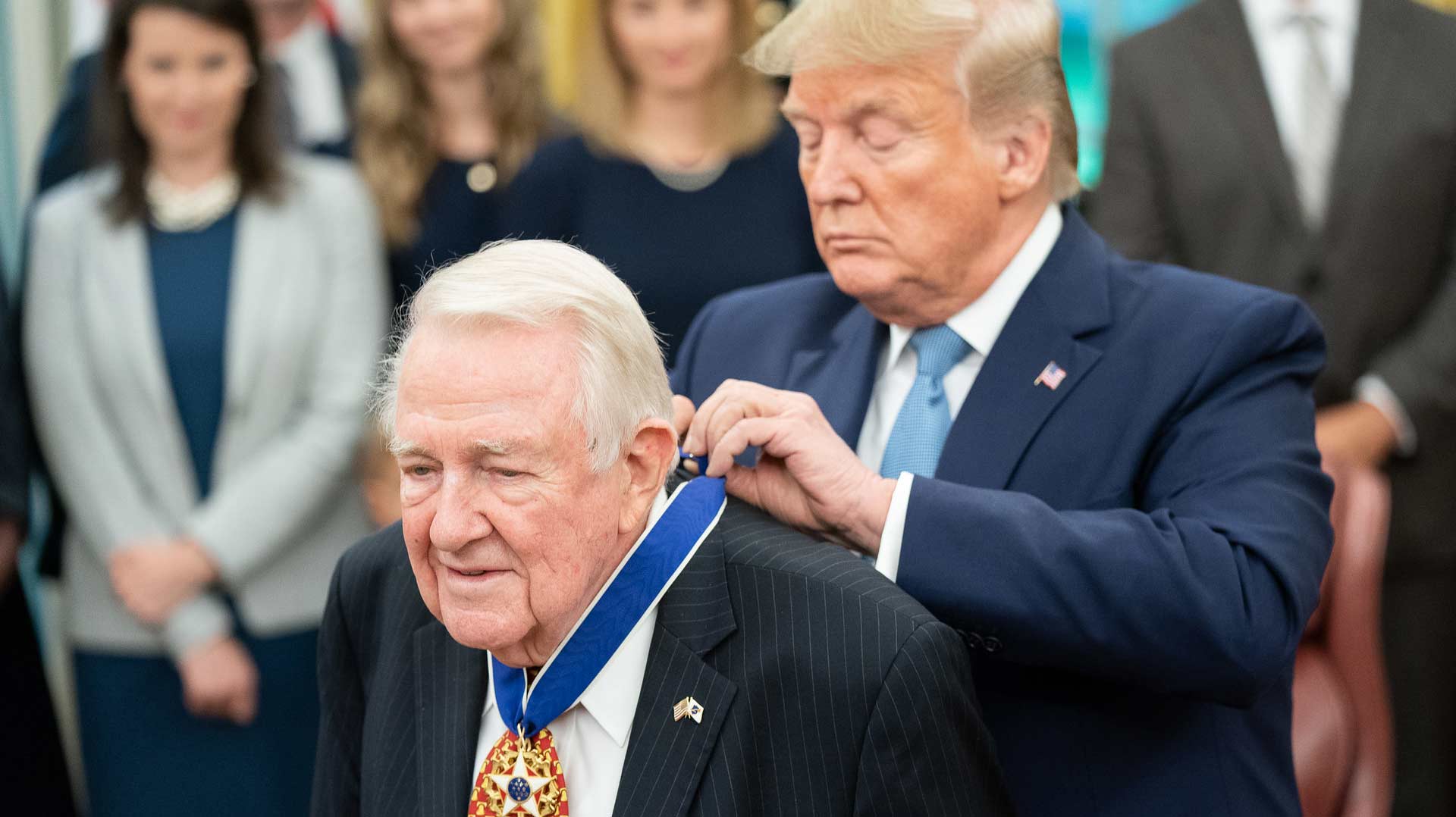 Congratulations to Landmark Legal Foundation's vice-chairman and former United States Attorney General Edwin Meese III on receiving the nation's highest civilian honor – the Presidential Medal of Freedom. Established by President John F. Kennedy in 1963, the Medal of Freedom is awarded by the President of the United States to individuals who have made exceptional contributions to the security or national interests of America, to world peace, or to cultural or other significant public or private endeavors.
All of us who have had the privilege of working with Ed Meese through his more than half century of public service know that he is a most worthy recipient of this great honor. He was among President Ronald Reagan's most trusted advisors from the very beginning of his days as California governor and continuing throughout his presidency.
One of Ed's most enduring contributions in government service came during his tenure as the nation's 75th Attorney General. Since the 1930s, liberal justices on the Supreme Court, appointed by both Republican and Democratic Presidents, moved the nation's legal system steadily to the left. Ed Meese helped to completely change its trajectory. In one of the most important speeches on the Constitution and the law by a sitting Attorney General, Meese declared that where the language of the Constitution is specific, it must be obeyed. Where there is a demonstrable consensus among the framers and ratifiers as to a principle stated or implied by the Constitution, it should be followed. Where there is ambiguity as to the precise meaning or reach of a constitutional provision, it should be interpreted and applied in a manner that, at a minimum, does not contradict the text of the Constitution itself. Meese made clear that judges should no longer be applauded for changing the clear meaning of words in the Constitution to find the results they wanted. (It remains a tremendous speech that can be read here.)
Thus began the modern Conservative movement's embrace of "originalism," which now is the predominant judicial philosophy of most conservative judges from the U.S. Supreme Court to local trial courts. Meese's speech initiated "The Great Debate," as it became known, with liberal Justice William Brennan. Justice Brennan, an Eisenhower appointee, argued in defense of the judicial activism that had upended our constitutional system. Their back and forth in a series of speeches is among the most significant in the nation's understanding of the Constitution's proper role in our Republic.
We are very proud of our friend and mentor, who has served on Landmark's board of directors for nearly 30 years. And we congratulate him for this tremendous and richly deserved recognition. I encourage you to watch the video of the White House ceremony, which includes the presentation of the Medal of Freedom and remarks by both Ed and his fellow Landmark board member, our chairman Mark Levin.
Thank you for your support,
Pete Hutchison, President
SUPPORT LANDMARK LEGAL FOUNDATION
We are truly facing existential threats to our individual rights and liberties, the Constitution, and our national character. If unchallenged, this assault on our very way of life will ruin our great nation. With your financial and moral support, Landmark is not going to let that happen without a fight. Will you join us?